Insulation Foam Rubber Tube For Copper Pipe
TOPLON NBR tube is a black, flexible elastomeric foam tube used to conserve energy and prevent condensation on piping applications. The tube closed cell properties create exceptional thermal and acoustic insulation, protect against moisture penetration and provide the best solution for applications within a -280°F to +221°F temperature range. It is primarily used in the HVAC/R market and comes in 6 feet or 2 feet length. It is 25/50-rated, according to ASTM E-84 standards for surface burning characteristics of building materials.
Heating: Excellent heat insulation performance, greatly reduce heat loss, convenient economy installation.
Ventilation: Also meet the world's most rigorous fire safety standards, greatly improved the safety performance of the materials, applicable to all kinds of ventilation ductwork.
Cooling: High soft degree, easy installation, applicable to the condensate pipes systems, cold media quality system in the fields of the insulation.
Air conditioning: Prevent condensation produce effectively, help air conditioning system to improve efficiency and create a more comfortable environment.
TOPLON rubber foam insulation tube technical data:
TOPLON rubber foam insulation

Physical properties

NBR tube

Test method

Cell structure

Closed cell

-

Density(kg/m3)

≤95

ASTM D 1667

Thermal conductivity BTU.in/ft2.hr.°F(W/m.k)

Mean temp

-4°F(-20°C)

32°F(0°C)

104°F(40°C)

ASTM C177&C518

K-value

0.22(0.032)

0.23(0.034)

0.26(0.039)

Water vapor permeability (g/m.s.Pa)

1.96x10-11

ASTM E96

Moisture resistance(µ value)

µ≥6000

DIN 52615

Flammability Smoke Density

V-0

UL-94

25/50

ASTM E84

Self Exitinguishing

ASTM D635

Class 0 / Class 1

BS 476: Part6 / Part 7

Pass

IMO FTPC Annex 1 Part5

Water Absorption(weight %)

≤5

ASTM D1056

Flexibility

Excellent

-

Ozone Resistance

No crack

ASTM D1171

Mildew Resistance

No fungal growth

-

Weather & UV Resistance

Good

-

Chemical Resistance

Good

-

Service temperature

-70°F to 221°F(-40°C to +105°C)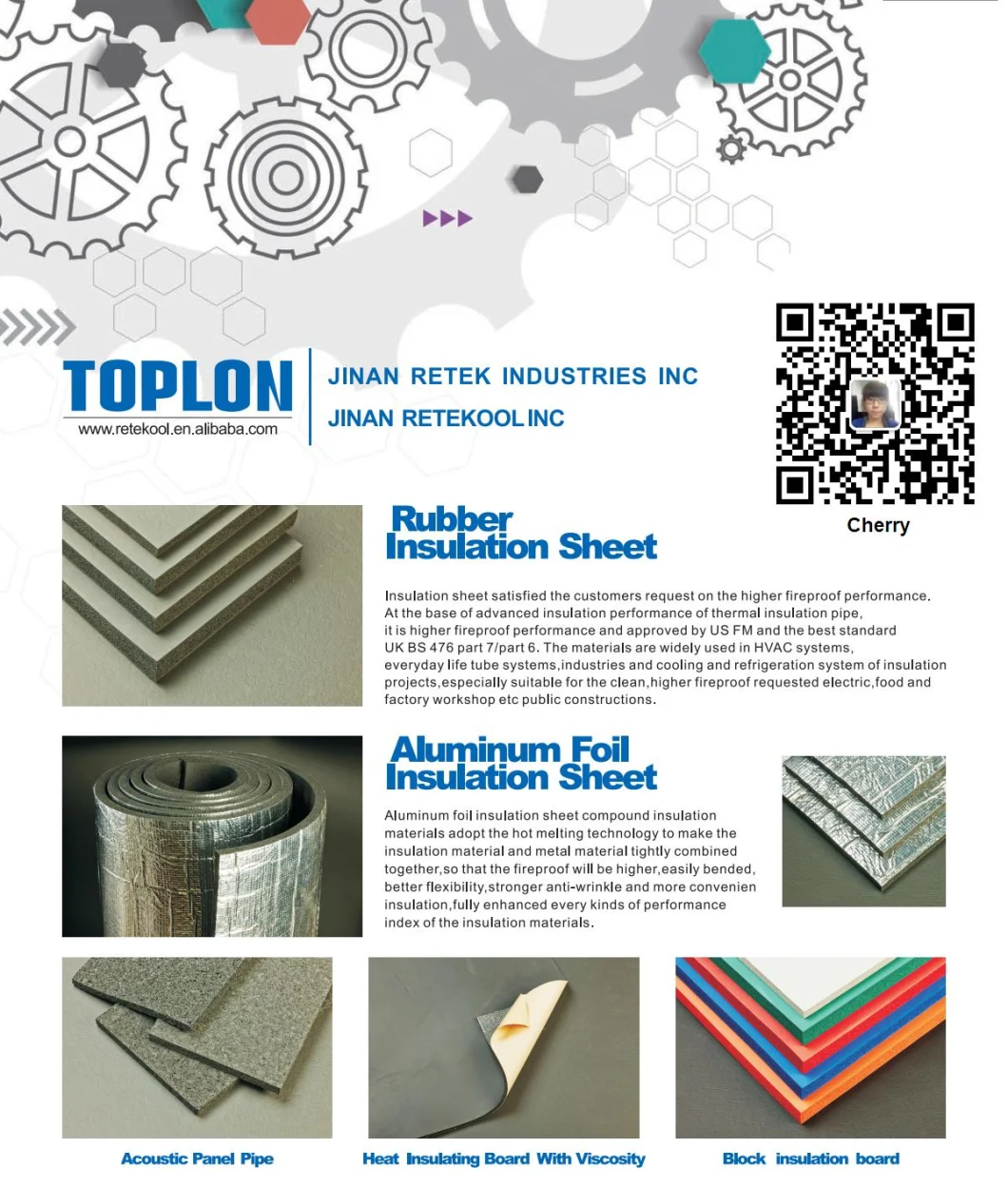 PACKAGE: