Roof Insulation
Structure: Consists of 5 layers:
Aluminum foil+PE+XPE+PE+Aluminum foil.
The size & weight can be meet the customers' demand.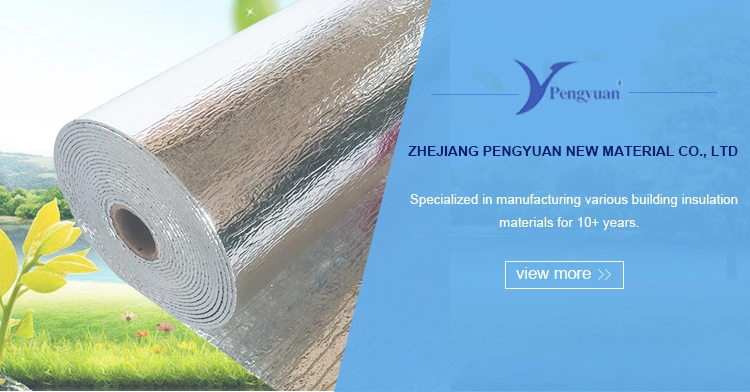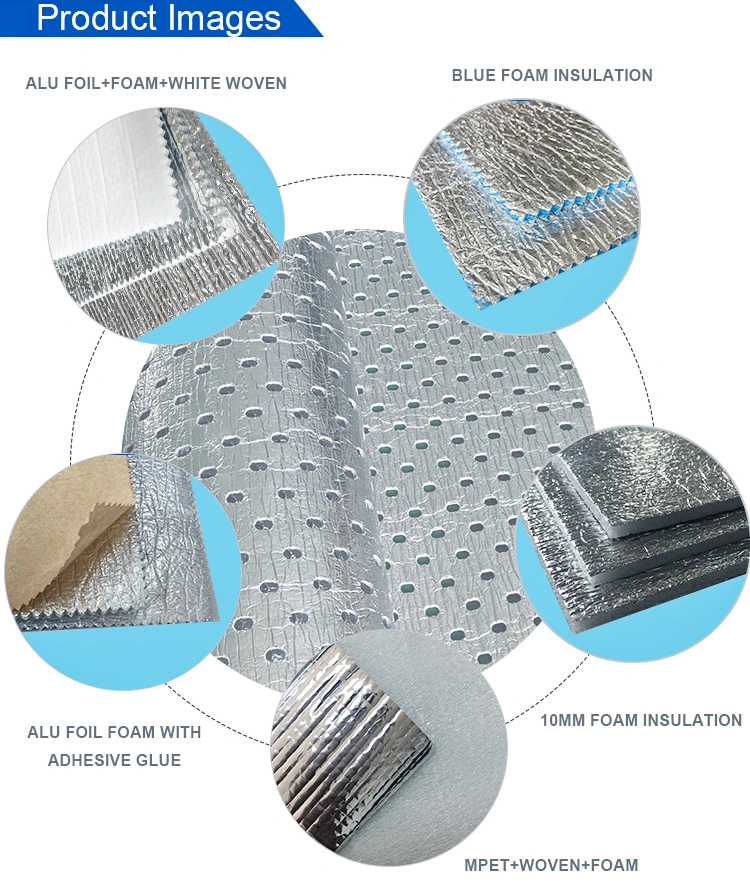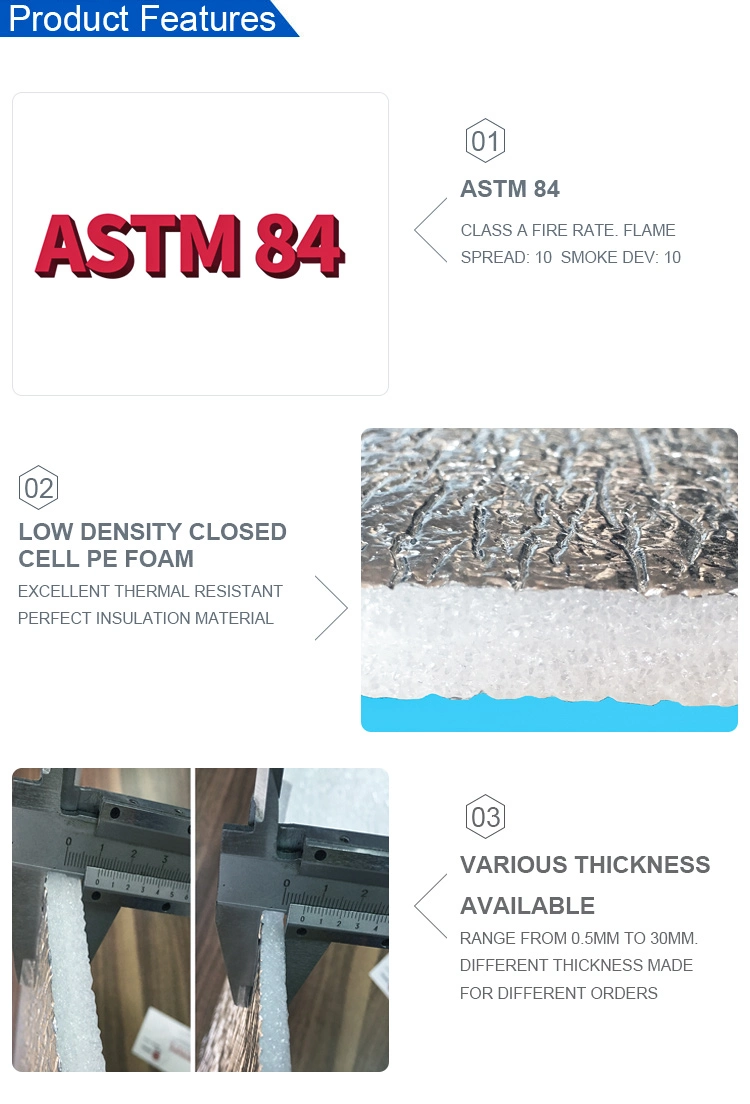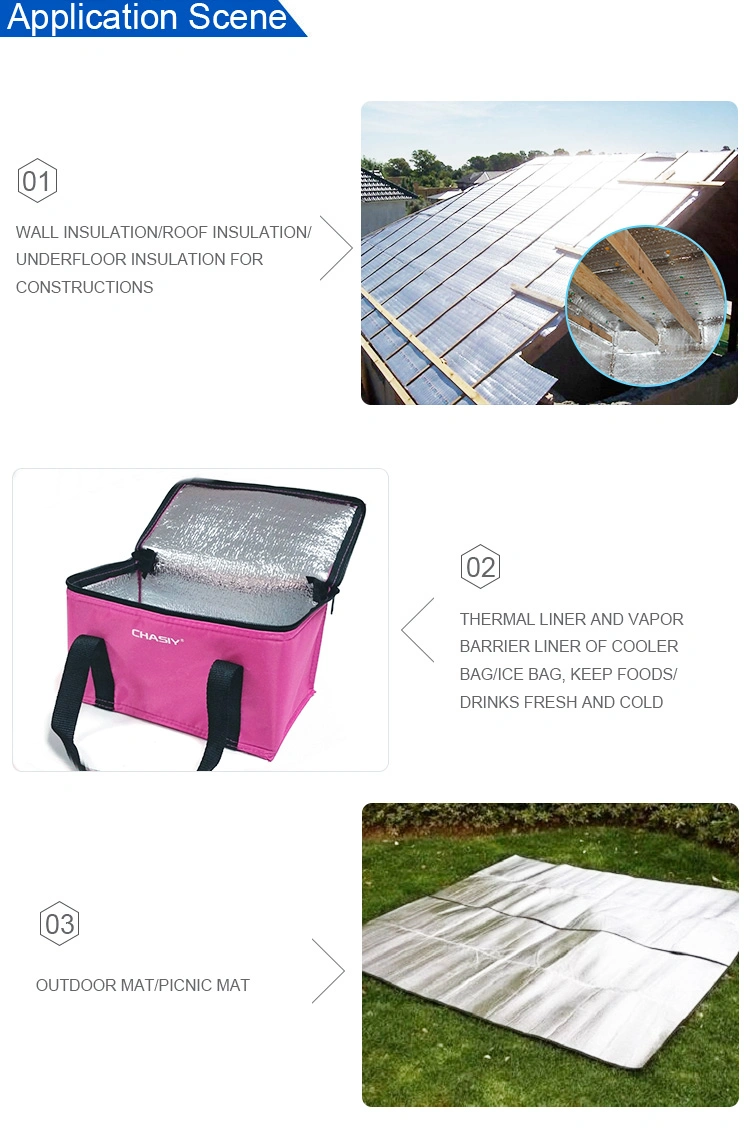 Characteristics:
The material provides excellent insulation: Reflects up to 97% of radiant energy in addition to resisting other types of heat transfer from conduction, convection, and radiation. The side of metalized PET forms an effective barrier against moisture, air currents and vapors.
1. Light weight, clean, good flexibility and cushioning;
2. Waterproof, moistureproof, anti-static, tearing strength, anti-pull, leak resistance;
3. Invariable if it is attacked repeatedly;
4. Low thermal conductivity and superior heat insulation; Good fire resistance;
5. Protective, versatile and enviromentally friendly;
Usage and Applications
1.HVAC Ducting
2.Building Wrapping
3.Clay tile roofing
4.Metal Roofing
5.Boiler/Furnace/Steam/Sauna Room Insulation
6.Cold Room Insulation
7.Hot/Chilled water or steam pipe
8.Thermal Tank
Delivery Time
For regular products, generally 15days delivery time. For other products, 25 days or more according to production schedule.
Our Main Products
PY1-Woven Foil(MPET)
PY6-Paper Foil (MPET)
PY2-Foam Foil(MPET)
PY7-Nonwovens Foil (MPET)
PY3-Bubble Foil(MPET)
PY8-Fiberglass Cloth Aluminum
PY4-Foil Scrim Kraft
PY9-Reflective Fabric
PY5-MPET coated PE;Aluminium Film
PY10-Finished Products
Company Information
Zhejiang Pengyuan New Material Co., Ltd. is a national high-tech enterprise, located in Hangzhou, China. Pengyuan was established in China in 2004, as a young but creative and pragmatic team with high-tech support from national and tireless study from researchers.
Our main products are metalized polyester film, radiant barrier, woven foil, bubble foil insulation material, fire-retardant roof sparking, XPE foam thermal for wall wrapping, vapor barrier EPE foil for underlayment, aluminum foil tape for ducting, etc.