Cell construction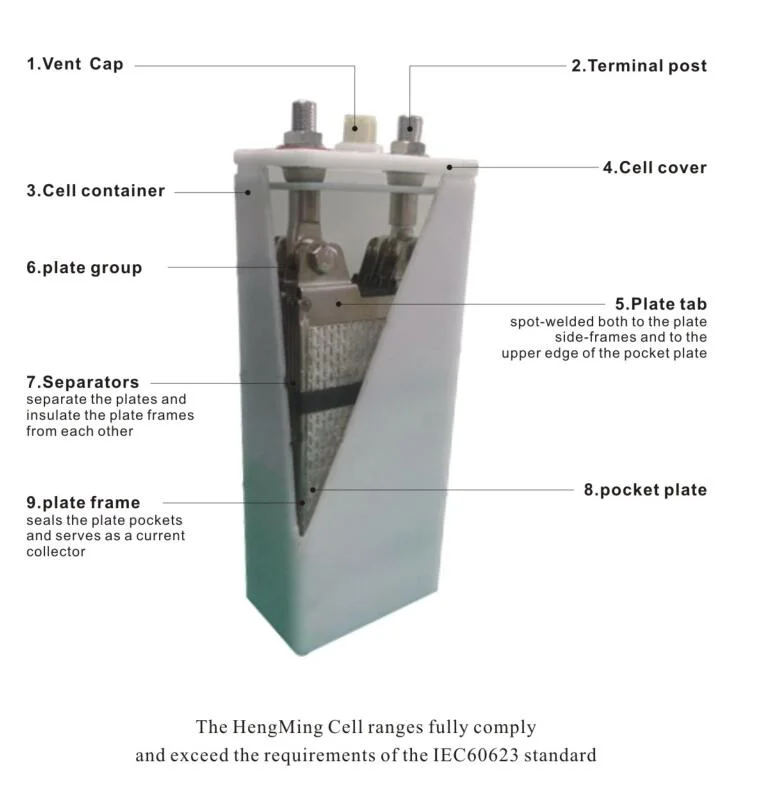 Description
1.Cell type:GN60=KPL60(low rate discharge nickel cadmium battery)
2.Rated capacity:60AH
3.Nominal voltage:1.2V
4.Container material :PP
5.Delivery with dry battery . electrolyte(KOH+LIOH+DISTILLED WATER)
Type List
KPL=GN(Low Rate Type) Pocket Plate----Pocket Plate

Cell Type

Nominal Voltage (V)

Rated Capacity (Ah)

Dimension(mm)

Thread of pole

Weight (filled) (Kg)

Electrolyte Volume (L)

Container Material

L

W

H

GN10

1.2

10

85

39

150

M8

1

0.2

ABS /PP

82

33

245

M10*1.5

0.95

0.2

ABS

GN20

1.2

20

114

52

266

M10*1.5

2

0.6

ABS

82

43

258

M10*1.5

1.3

0.3

ABS /PP

135

54

265

M10*1.5

1.8

0.6

ABS / PP

GN30

1.2

30

114

52

266

M10*1.5

2.2

0.5

ABS

135

54

265

M10*1.5

2.2

0.6

ABS / PP

GN40

1.2

40

114

52

266

M10*1.5

2.3

0.4

ABS

135

54

265

M10*1.5

2.5

0.6

ABS / PP

141

66

226

M10*1.5

2.6

0.5

PP

138

61

266

M10*1.5

2.9

0.7

ABS / PP

GN45

1.2

45

138

61

266

M10*1.5

3

0.9

ABS

141

66

226

M10*1.5

3

0.8

PP

GN50

1.2

50

138

61

266

M10*1.5

3.2

0.7

ABS / PP

141

71

295

M10*1.5

3.5

0.9

PP

GN60

1.2

60

135

53

370

M10*1.5

3.9

1.0

PP

141

71

295

M10*1.5

4

1.1

PP

139

79

295

M10*1.5

4.3

1.1

ABS

138

61

266

M10*1.5

3.8

0.8

ABS / PP

GN70

1.2

70

139

79

295

M10*1.5

4.4

1.0

ABS

141

71

295

M10*1.5

4

0.9

PP

2GN70

2.4

70

195

79

331

M8

8.3

2.5

PP

GN75

1.2

75

139

79

291

M10

4.6

1.1

ABS

GN80

1.2

80

141

71

295

M10*1.5

4.6

0.9

PP

139

79

295

M10*1.5

4.6

1.1

ABS

GN90

1.2

90

139

79

362

M10*1.5

5.9

1.4

ABS / PP

GN100

1.2

100

139

79

362

M10*1.5

6

1.4

ABS / PP

143

100

280

M10*1.5

6.1

1.3

ABS

GN110

1.2

110

139

79

362

M10*1.5

6

1.4

ABS / PP

143

100

280

M10*1.5

6.1

1.3

ABS

GN120

1.2

120

139

79

362

M10*1.5

6.2

1.3

ABS/PP

GN130

1.2

130

164

104

345

M20×1.5

9

1.9

ABS / PP

GN150

1.2

150

167

162

345

M20×1.5

12

3.0

ABS / PP

164

104

345

M20×1.5

9.3

2.0

ABS / PP

GN180

1.2

180

167

162

345

M20×1.5

13

3.3

ABS / PP

165

105

345

M20×1.5

9.4

1.8

ABS / PP

GN200

1.2

200

167

162

345

M20×1.5

14

3.3

ABS / PP

1.2

200

164

104

345

M20×1.5

10

1.8

ABS / PP

GN230

1.2

230

167

162

345

M20×1.5

13.7

3.3

ABS / PP

GN250

1.2

250

167

162

345

M20×1.5

14

3.4

ABS / PP

277

145

420

M16

15.7

2.6

PP

GN300

1.2

300

282

170

348

M20×1.5

22.5

5.0

ABS

176

161

540

M16/20

20.5

4.7

ABS

277

145

450

M16

21

6.0

PP

GN400

1.2

400

282

170

348

M20×1.5

25

5.0

ABS

277

145

450

M16

22.6

6.0

PP

232

172

410

M16

24.5

6.0

ABS

GN500

1.2

500

285

172

490

M20×1.5

33.6

7.8

ABS

277

145

490

M20×1.5

22.6

6.0

PP

GN600

1.2

600

285

172

490

M20×1.5

34

7.5

ABS

GN700

1.2

700

285

172

490

M20×1.5

39

8.4

ABS

GN800

1.2

800

395

185

560

M20×1.5

57.5

15.5

ABS

GN900

1.2

900

395

185

560

M20×1.5

59

15.0

ABS

GN1000

1.2

1000

395

185

560

M20×1.5

60

14.0

ABS

GN1100

1.2

1100

395

185

560

M20×1.5

62

12.0

ABS

GN1200

1.2

1100

395

185

560

M20×1.5

62

11.3

ABS
Cycle life
One cycle means a cell is fully charged and discharged. The cell's cycle life should not be less than 900 cycle. According to the applicable IEC standard,it shoud be 500 cycles at least. in case of float charge application,its cycl life may be longer.
Advantage of hmbattery
1.Having packing room,welding room,assembling room,heating room,production room etc
2.Wide operating temperature range from -25 °C to 45°C
3.Long service life more than 20 years
4.Excellent charging efficiency and smooth discharge voltage
5.High resistance to mechanical and electrical abuse
6.Plastic maerial is produced by our own factory
7.Low maintenance cost and replacement cost.
8.Excellent sales man and engineers
9.Fastest delivery time
10.30 years Ni-Cd manufacture experience
12.Top three sales in China NiCd battery field
Application
Nickel-cadmium pocket plate batteries are available in three different plate designs optiized with regard to the required discharge(back up ) time. these categories are:
High Rate(KPH) for discharge periods of less than 60 minutes
Medium Rate(KPM) for discharge periods of more than 60 minutes
Low Rate(KPL) for discharge periods of more than 120 minutes
These cell ranges do perfectly satisfy the requirements of a really wide variety of different applications.
1.High rate batteries
Typical high rate applications are,among others:
Electro Magnets
Engine Starting
Switchgears
Uninterruptible power supply (UPS)
2. Medium rate batteries
Typical medium rate applications are,among others:
Electric Train Control
Process Control
Turbine Starting
3.Low Rate Batteries
Typical medium rate applications are,among others:
Alarms
Railway Signalling
Telecommunications
Company Information
Henan Hengming Fengyun Power Souce Co.,Ltd is professional ni-cd railway storage batteries manufacturer in China and have been in this line for 30 years.
our products have been exported to more than 20 countries, which performance is better and widely used for DC power, back-up power of railway, railway signaling, UPS, boat, Solar home application, boat, engine starting, etc
Hengming have attained the certificates of ISO9001 & ISO14001, and our products are accredited with TUV / CE/ IEC.
We built a new factory to expand our business.
Welcome to visit our new factory.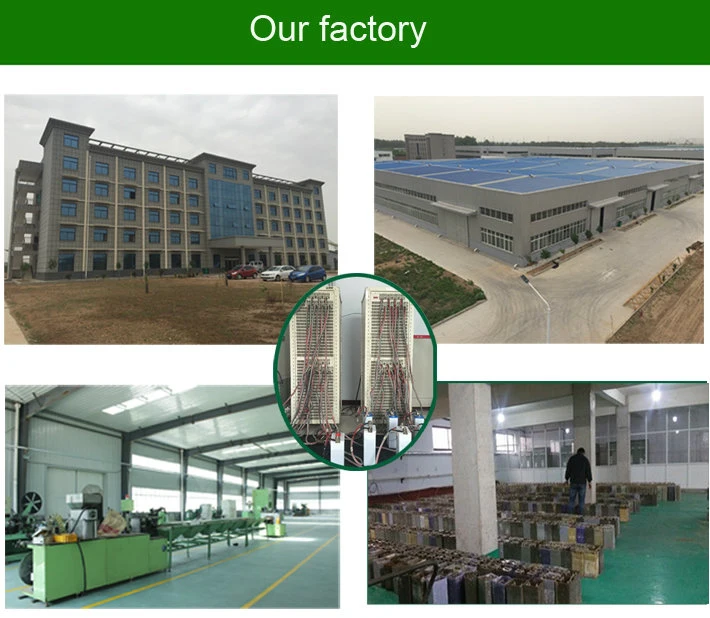 Packing and Shipping
The battery will be packed by polywood case. Electrolyte powder or wet electrolyte will be sent with accessories.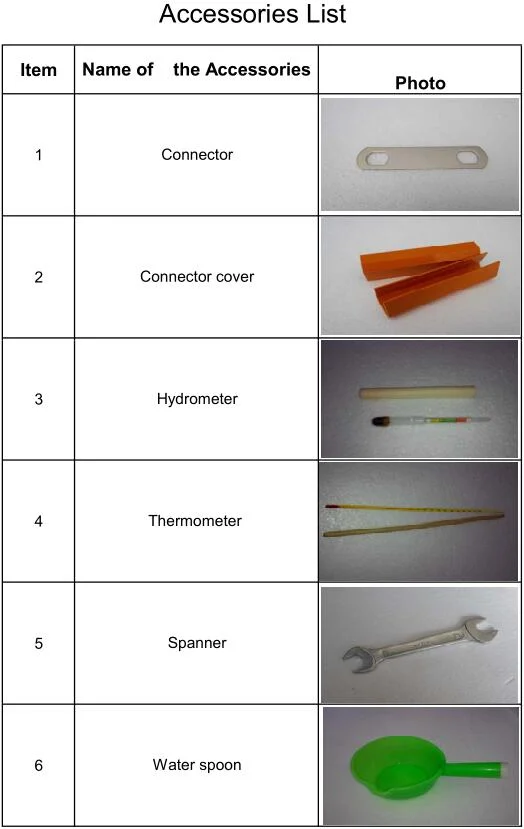 Certification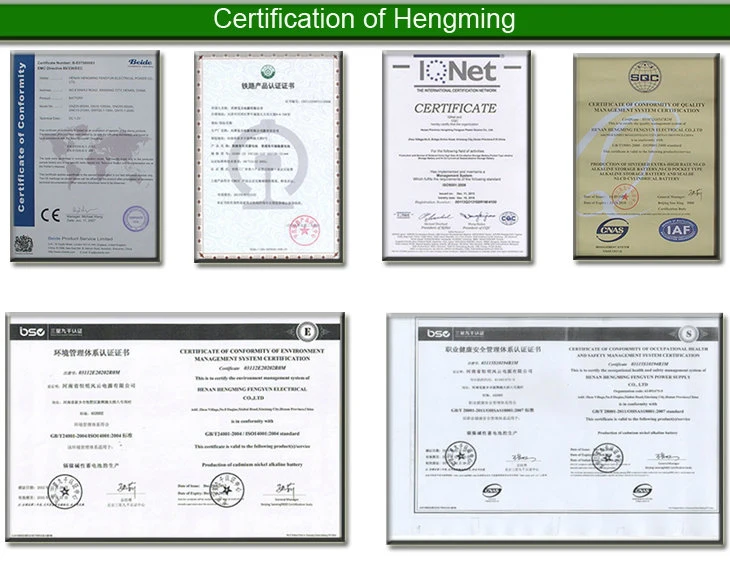 Contact us