Infrared Honeycomb Ceramic Plate for Burners
Infrared honeycomb ceramic plate used in combustion oven, using modern advanced science and technology and selecting high-purity and high-quality cordierite. They have the advantages of high heat efficiency and low energy consuming, low pollution, economical and practical, easy installing, high ventilative rate and strong heat radiation, etc. Compared with the electrical drying stove and common gas-fired combustion stove,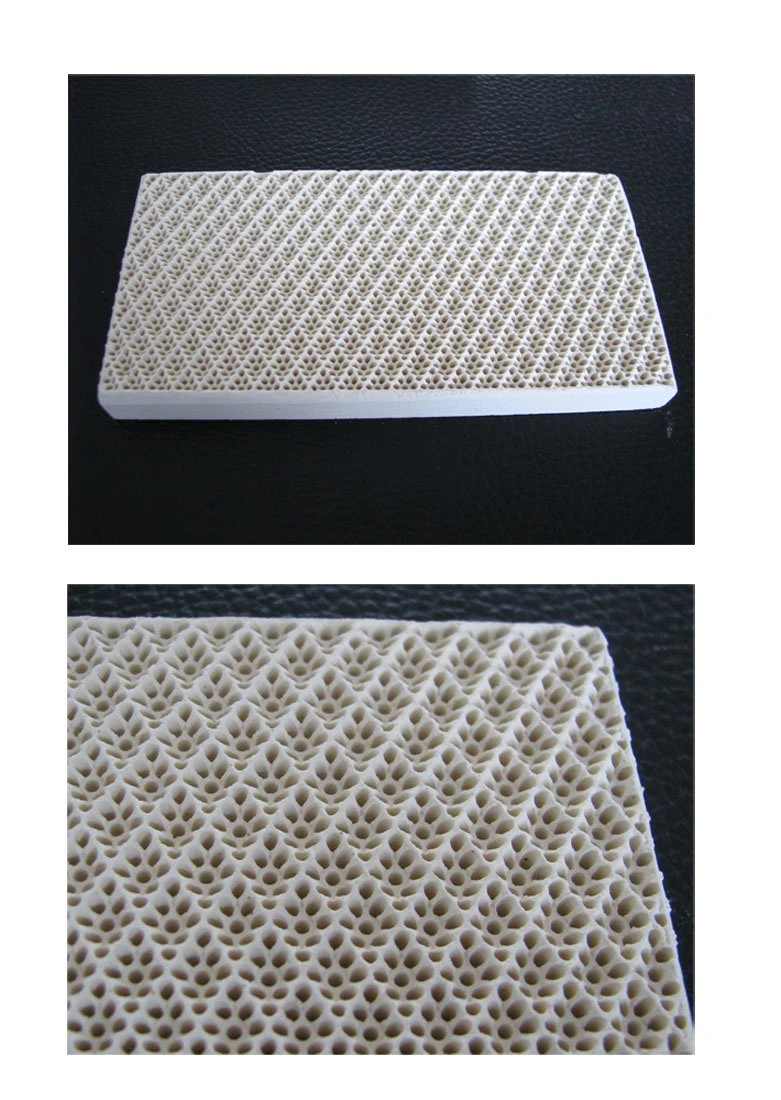 Infrared ceramic plate has low dilatability and excellent heat proof wallop. It can be widely application to gas heating appliance, BBQ stove and gas cooker and etc. It has the characters of improve the efficiency of heat exchange, radiation gas heaters should give out very little convection heat, and the wave length of radiation has to be in the infrared range.
We can produce round, square and sector of infrared ceramic plate.
Size of square: Length of not more than 200 mm, width of not more than 140 mm.
Size of round: Diameter from 50 mm-140 mm
Thickness from 8 mm to 15 mm.
Hole Diameter from 1.1 mm-1.8 mm.
Holes Interval from 1.649 mm-2.086 mm.

Advantages as follows:
Outstanding Strength
Uniform radiant burning
Excellent thermal shock resistance
Save up to 30~50% energy cost
Burn without flame, high burning efficiency, low noise
Reduce the harmful gas such as CO, NOx, etc more than 90%
| | |
| --- | --- |
| Barbecues | Gyro Cookers |
| Broilers | Pizza Ovens |
| Convection Ovens | Pressure Fryers |
| Deep Fat Fryers | Process |
| Evaporators | Ranges |
| Gas Ovens | Rotisserie Ovens |
| Griddles | Space Heaters |
| Greenhouse CO2 | Sear Cookers |
Item
Index
Specifications
Material
Cordierite
We can provide you
the product by you desire.
Water absorption
50.4%
Open Porosity
61%
Specific gravity
0.9-1.10Kg/cm3
Thermal expansion coeffecient
1.5-3(×10-6K-1)
Temperature softening
>1280
Cooking Surface Temperature
1000-1200
CO Release
≤0.006%
NOx Release
≤5ppm
| | | | | |
| --- | --- | --- | --- | --- |
| Type | SIZE(lengh XXwidth mm) | HOLE QUANTITY | HOLE SHAPE | HOLE SIZE(mm) |
| 1 | 100X150 | 24X36 | SQUARE | 3 |
| 2 | 150X100 | 35X20 | HEXAGON | 3.6 |
| 3 | 150X100 | 30X23 | SQUARE | 4 |
| 4 | 150X100 | 23X13 | HEXAGON | 6 |
| 5 | 150X100 | 36X24 | SQUARE | 3 |
| 6 | 150X100 | 13X10 | HEXAGON | 9 |
| 7 | 100X100 | 22X25 | HEXAGON | 3.6 |
| 8 | 100X100 | 8X10 | HEXAGON | 9 |
| 9 | 100X100 | 13X15 | HEXAGON | 6 |
| 10 | 100X100 | 6X7 | HEXAGON | 12 |
| 11 | 100X100 | 18X18 | HEXAGON | 3.6 |
| 12 | 100X100 | 19X19 | SQUARE | 3.6 |
| 13 | 250X250 | 46X53 | ROUND | 4.1 |
| 14 | 250X200 | 53X37 | ROUND | 4.5 |
| 15 | 50X50 | 28X28 | SQUARE | 1.3 |
| 16 | 126X94.5 | 10X9 | HEXAGON | 9 |
| 17 | 150X150 | 43X43 | SQUARE | 2.6 |
| 18 | 150X150 | 25X25 | SQUARE | 4.8 |
| 19 | 150X150 | 4X4 | HEXAGON | 34 |
| 20 | 153.8X153.8 | 100X100 | SQUARE | 1 |
| 21 | 120X120 | 38X38 | SQUARE | 2.5 |